Local schoolchildren take part in water-efficiency workshops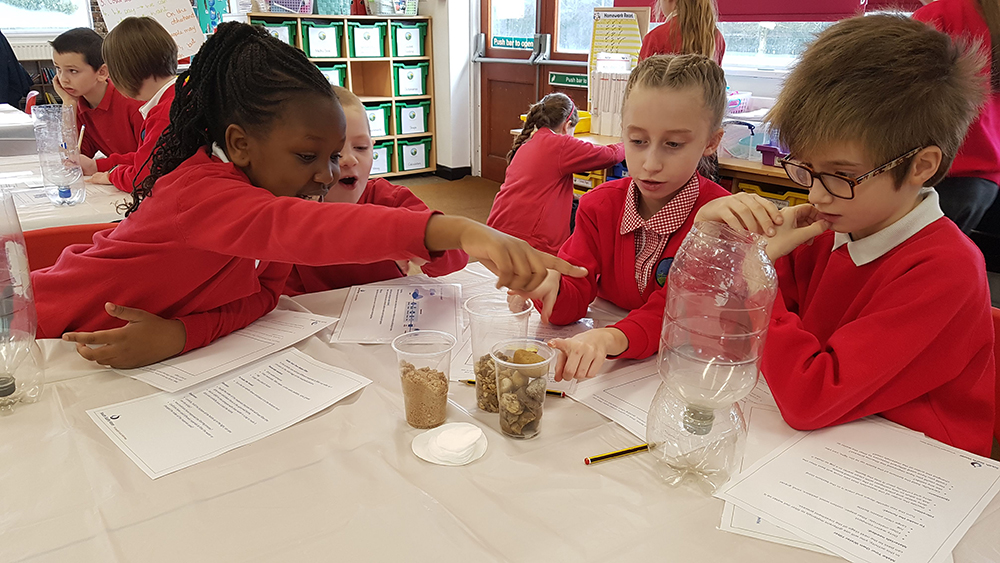 Educating the next generation about the wonderful world of water is something that we pride
 ourselves on
. At the beginning of the year,
 177 
schoolchildren
 took part in water-efficiency workshops and assemblies to 
learn about where their water comes from, how it is a precious resource, and the need to protect it.
Engaging with local schools within our area of supply is just one of the ways that we're 'Making Water Count' for our
 future
 customers. Through the delivery of hands-on workshops, children get to make their own water filters
 and learn about the water cycle.
The most-important message that we want children to
 take away from our
workshops and assemblies 
is that they are the generation that has the ability to make change happen. They are encouraged to think about how water is used at home and what small changes can be made to ensure that water is protected for generations to come.
"The best part of delivering our education programme is to see the enthusiasm from schoolchildren. They will think about where water comes from the next time they turn on the tap and tell their parents, carers and grandparents about how important it is to use water wisely."

- Elena Mexa, Head of Communications, Marketing and CSR
Like many others, we have had to adapt to the 'new normal'
 and come up with alternative ways of engaging with schools, where classroom delivery isn't an option. When schools were closed due to lockdown, we launched 
online quizzes
 and 
workbooks
, so that children could continue their learning from home.
Now that restrictions have eased and schools have returned, we have intro
duced virtual delivery as an additional option
, which 
Elena
 says has been received well
: "Schools have responded 
positively
 to virtual delivery as they were eager to keep their bookings but were restricted by social-distancing guidelines. We're really pleased to 
offer an option that helps to keep learning safe for all."




Posted: 8 October 2020.