Investment in new water mains in Waterbeach
Work has started on an essential project to replace water mains in Waterbeach.

The project is part of our ongoing improvement programme resulting in the highest water quality and a reliable water supply to our customers.
Where and when?
Water mains will be replaced in:
Cammel Walk from 18 November 2020 (completed)
Dowding Avenue from 23 November 2020 (completed)
Cody Road from from 30 November 2020
Kirby Road from 30 November 2020
Kirby Terrace from 30 November 2020
Fletcher Avenue from 25 January 2021
Capper Road from from 25 January 2021
Templar Walk from 15 February 2021
The project is due to be completed in February 2021.

Check for updates.
Will traffic be affected?
Temporary traffic signals will be in use on Cody Road from Monday 11 January 2021 for about three weeks.

We'll be working through the remaining roads using appropriate signage and traffic management as required.

We would be very grateful if affected areas could be kept clear of vehicles between 8am and 5pm, as this will minimise disruption for all residents and businesses.

Click on the plan to enlarge:



For full details of roadworks please visit one.network.
Will this impact my water supply?
There will be occasions when there will be an impact on your water supply. These interruptions will be kept to a minimum and if we will provide at least 48 hours notice with details of how your supply will be interrupted. There may also be occasions when we need to shut off the supply for up to fifteen minutes, we will advise affected customers of these on the day of the interruption.
COVID-19 guidance
Our colleagues follow the necessary Government hygiene measures and we would be grateful if you would maintain the two-metre social distance rule if you are passing our workers, or if you need to talk to them.

Updates
27 November 2020
Cammel Walk:  The existing 4" cast iron pipe has been sliplined with new 90mm polyethylene pipe and services have been transferred. Just minor reinstatement works remain.
Dowding Avenue: The team have been locating existing services and digging pits ready for sliplining to start on Monday. 
Cody Road/Kirby Road: Three-way lights will be set up on Monday and the team will start to excavate the trench and lay a new pipe along Cody Road, then work along Kirby Road. Here we will be 'pipe bursting' where the existing pipe is burst and new pipe is towed into place. This technique and sliplining is less disruptive to customers.
11 December 2020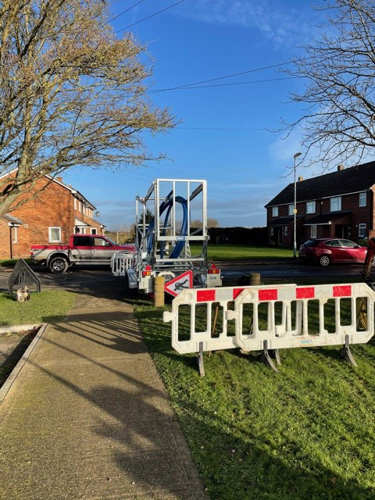 Dowding Avenue:  We have completed the works here, sliplining the old iron and pvc pipe with new high performance polyethylene pipe. When sliplining we have to dig to expose all existing connections for service pipes and also for launch and reception pits. All customer service pipes are connected to a temporary water pipe, we then can pull the new pipes through the old pipes using a winch. The new pipes are then cleaned and sampled before we connect to the customer supply pipes.  The sliplining  method saves time, additional excavation and disruption to customers.
Cody Road: We have open cut the new pipe just past the junction of Kirby Road.
Kirby Road: We have pipe burst the existing cast iron pipe and inserted new high performance polyethylene pipe.
Kirby  Terrace: We have completed the new 63mm sliplining works.
We will continue with a little more work before focussing on reinstating the surfaces. We plan to be able to take the three- way lights down by the middle of next week ready for the Christmas break. We will then return to progress our works early in the new year.

15 January 2021

The team returned back after the Christmas break and are progressing with the  project.
Last week a small team undertook investigation works digging trial holes and undertaking test watermain shuts. This helps us to plan the forthcoming works to ensure the water main renewal works are carried out efficiently. It also helps us to ensure that we avoid any unplanned supply interruptions to customers' supplies.
This week we will have completed the new pipeline along Cody Road. the next job will be to lay the small diameter communication pipes from the new main to connect to customers' supply pipes.
We are also progressing with the pipebursting works along Kirby Road.
22 January 2021

 Pipe bursting work continues along Kirby Road.
Next we will be focusing on completing Cody Road work so we can remove the temporary lights by the end of the month as agreed with Cambridge Highways.
4 February 2021
Work is progressing to programme with approximately four weeks left.
Our work along Cody Road is complete and the temporary traffic lights have been removed. Towards the end of the job, temporary traffic lights will be required at the junction of Cody Road and Capper Road in order for a road crossing and connection works to be undertaken.
During the last week we have completed the sliplining of the 4" cast iron pipe along Fletcher Avenue. Here we have inserted a new 90mm high performance polyethylene main.
We are finishing our works along Kirby Road and progressing the renewal of the water mains along Capper Road. We are pipebusting the existing 4" cast iron main and inserting a 125mm HPPE and we are sliplining the mains serving the flats off Capper Road with new 90mm HPPE pipes.
19 February 2021
 We have completed the slip-lining works to the flats off Capper Road which are now served by new 90mm high performance polyethylene water mains.
Our project is nearing completion with just a few more weeks left. We are currently laying our 125mm HPPE main along Capper Road towards the junction of Cody Road. This section of work is being completed by traditional open trenching. We are also progressing the sliplining of two small sections of 3" main near 37 ad 39 Capper Road with 63mm HPPE.
5 March 2021
We are currently completing the renewal of the existing 4" cast iron main with new 125mm high performance polyethylene water main along Capper Road. We will continue up to the junction of Cody Road where we will make final connections. 

We are currently planning to complete all works on this scheme by the end of next week.
Thanks for your patience and cooperation while these essential works are carried out.
Posted: 20 November 2020
Updated: 8 March 2021