Why switch to a water meter?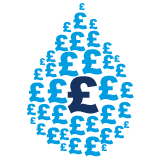 Get your finances flowing nicelyThe average person saves £100 a year when switching to a meter.




Stop pouring water down the drain - literallyYou'll only be charged for the water you use.




There's no need to splash out It's completely free to install and there are no hidden costs.



Dive right inJoin our 350,000 customers who already have water meters.




It's smooth sailingIt's simple to apply for a meter - it's as easy as 1,2,3.




Switch back guaranteeIf you change your mind, or find you're not benefiting from having a meter, you can switch back within two years for free.



Want to switch?
Find out how to apply for your meter
Already got a meter and want to submit a reading?
You can submit a meter reading when your bill is due, just login to MyAccount and enter your reading.